Technology is an awesome thing that has propelled bike lovers to exciting new heights in new times. And, the introduction of varying types of electric bikes has greatly helped ebike seekers to go further into the woods and to explore something new.
But, to search for any electric bike, you need to decide the bike design i.e., Step through vs Step over ebike.
The most major difference is the design of the bike's frame, a step-over electric bike possesses a top tube, while a step-through electric bike doesn't possess a top tube.
Read through the article to grab more information regarding step over vs step through frame of an electric bike and some important faqs.
What is a Step-Through Electric Bike?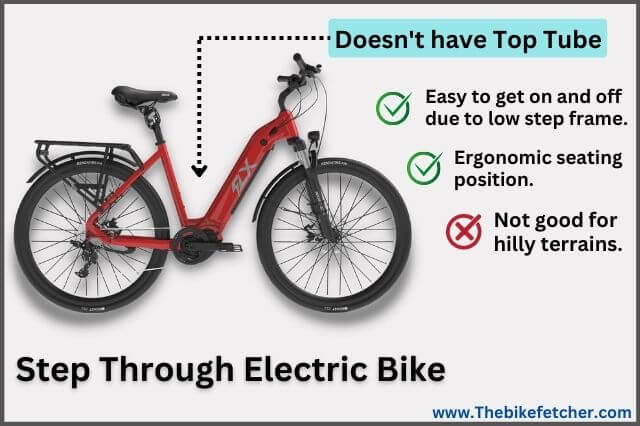 Step-through ebikes are usually designed to possess a stepping pad and lower frame, as this type of design permits the riders to mount easily without lifting their legs. Moreover, this type of e-bike permits the riders to ride in an upright position.
In the early times, these e-bikes were designed specifically for women to make their rides easy. But, nowadays, things have changed entirely, as the dressing style of men and women have changed drastically, which means that step-thru ebike is for everyone now.
The step-through frame of an e-bike helps you to indulge in a casual ride around the town, and their upright position and easy mounting make the ride more comfortable. Furthermore, this frame design of the e-bike is perfect for those who have mobility issues.
Who is a step-through electric bike best for?
A step-through e-bike seems to be the most exotic option, as the ebike's lower frame is still present, but no availability of a top crossover to lift your leg. As you would be moving your leg over the frame's lower part, it seems like you are stepping through a bicycle.
The most advantageous part of this type of ebike frame is that you don't require to lift your leg just to get over the seat. This ebike is a perfect option for hunters, especially for old people or for people with knee and leg problems.
The step-through e-bike frame gained fame via parcel delivery services, as the delivery people found it easy to mount when stuffed with parcels.
What is a Step-Over Electric Bike?
Step-over e-bikes are considered popular traditional bikes and are known by this name due to their diamond or triangle frame construction work.
A unique type of electric bike as this type of ebike frame could be seen in almost every type of ebike, that ranges from mountain bikes to city bikes to expert racing bikes.
This type of ebike frame possesses strong geometry and all thanks go to its frame design and are well-known among those riders who take biking more seriously. This type of ebike frame is designed to withstand huge stress during riding, making it perfect for riding in mountain terrain.
Furthermore, step-over e-bikes are popular among sports riders, as they possess high speed and power without disturbing the balance. Let's know more about step through vs step over Ebike.
Who is a Step over electric bike best for?
As bikes have been around for a long time, since then, bikes have evolved into various basic layouts, as various intelligent people have invested the effort and time to design an attractive ebike frame.
This step-over ebike frame has the benefit of being exceptionally strong while making use of very few materials.
Apart from some additional metals, step-over e-bikes are usually much lighter than electric step-through bikes because the step-through e-bike's frame requires much thicker components to become more strong just like its counterpart.
Moreover, if you want to ride through rough terrain or desire to have a ride in a demanding environment, a step over an e-bike becomes the superior choice. It provides better stability to beginners. You should learn how an ebike works if you are riding an ebike for the first time.
This ebike is an ideal option to ride through difficult terrains as it requires less hassle to push the bike in rough areas. Step-over ebikes are more effective than step-through bikes in terms of performance.
Step Through vs Step Over Ebike: Difference, Pros & Cons
A bike's design is pretty essential, it is not only for physical appearance but should also depict good performance. As a newbie to e-bikes, you need to be familiar with the disadvantages and advantages of every frame.
Moreover, it becomes pretty crucial to know certain features about step thru vs step-over bikes before taking any decision. Let's dive into the differences, pros, and cons of every type of ebike frame to provide you with clear insight.
Difference between Step Through and Step Over Bike
| Step Through Electric Bike | Step Over Electric Bike |
| --- | --- |
| Step thru e-bikes came into the limelight around the end of the 19th century and in the early 20th century. | Step over ebike's frame is a traditional and the oldest design of a bike frame. It has been improvised during each century. |
| The bike's frame is also well-known as a drop frame, low step frame, or open frame, which is available with a low crossbar or top tube, or even absent sometimes. | Also known as the triangle or diamond frame, it includes two triangles. One triangle is designed between the down tube, head tube, top tube, and seat tube. while another is designed for seat stays, seat tubes & chain stays. |
| This awesome type of ebike frame permits the rider to easily remount and demount without even lifting their legs. | The ebike's construction is durable and lightweight, so it becomes an ideal choice for sports riders. |
| Generally, this design is considered for casual rides, like going to work. | Step-over electric bikes are commonly witnessed on road and city bikes, high-end racing bikes, mountain bikes, and hybrid bikes |
| It is very much suitable for delivery boys/girls, senior citizens, and people with leg pain. | This ebike provides the riders with much more pedal power along with a more balanced ride. |
Pros and Cons of Step-Through Electric Bikes
Pros:
The stepping pad and low frame make the bike easy to handle and it needs less effort to get on and off. Due to its upright sitting position, it is easy and safe for riders of every age.
Its feature of easy mounting and dismounting along with its upright sitting position makes it super comfortable and easy to use.
Its easy mounting and comfort make the e-bikes suitable for various casual rides such as running errands, shopping, or simply going out for fun rides. Moreover, if you are in search of a comfortable e-bike, an electric step-through bike should be your ideal choice.
You can ride to work safely. Also, one could ride a step-through e-bike while wearing formal attire, dress, skirt, and sportswear, as these attires are stiff and make it tough to mount and dismount via step-over e-bikes.
Cons:
The geometry of this ebike's design is weaker than other types of e-bikes due to its downtube. Due to this, these sorts of bikes are designed with heavy and much more durable components. This would lead to a heavy bike but are safe to travel.
Not suitable for riders who prefer high speed, thus making them unsuitable for track cyclists. These ebikes are not designed for high speed but are perfect for riders searching for stability and comfort.
Due to their weak frame geometry, these e-bikes could not be an ideal option for riding over steep terrain. During uphill riding, the bike's frame is put under lots of stress, which could result in frame bending. Though the bend is slight, it could make an e-bike less stable and make it dangerous.
Accessorizing step-through bikes could be challenging and tough, as these types of ebike frames are not designed for certain attachments such as mini backpacks and water bottle holders because of their frame design.
Pros and Cons of Step-Over Electric Bikes
Pros:
Step over ebike's frame geometry is stronger and sturdy and can stand various drastic situations and lasts for thousands of miles.
Specially designed to handle rough terrains or all sorts of terrains. The e-bikes are an ideal option for adventurous people who prefer to cycle off-road or ride over hilly terrain due to their sturdy and durable frame design.
This type of electric bike is very light, including a frame that ensures proper handling and high speed, thus enhancing performance. Therefore, this type of ebike is suitable for beginners.
Achieving top speed on an ebike is easy if you ride an electric bike with a step-over frame because of its triangular frame geometry.
Cons:
While the step-over ebike frame is intended for every sort of terrain, it is not an ideal choice for extreme riding situations and is only applicable for light to medium-weight riders.
These ebikes are not reinforced commonly with the same material type just like other bike designs, like mountain bikes, and would not be strong enough to meet the high demand of heavy riders.
Its bent-over frame requires lifting the legs on and off, meaning a less comfortable ride. Due to this, it becomes less suitable for people wearing formal or for those having mobility problems.
How to Choose the Right Electric Bike?
When choosing between step through vs step over ebike frame, you might get confused. While each ebike possesses varying features, the type you select could be determined by your satisfaction and your riding style.
And, when you choose the desired frame for you, you could experience a smooth and great ride. E-Bikes are fun but are also a way to clear your mind and fetch some exercise. Here are some points that you need to consider before selecting an e-bike.
1. Design & Style
Before selecting an e-bike, its design and style play a crucial factor that you need to consider. Therefore, electric bike buyers are required to decide whether they are searching for a modern look ebike, a sleek look ebike, or an e-bike with a vintage and classical look.
Also, decide whether you are comfortable with a step-over or step-through electric bike on the basis of your purpose of riding an ebike.
2. Performance
Certain bikes available in the market provide maximum legal power, and their speed is limited by some government regulations that permit the riders to use e-bikes. Performance also plays a vital role in the selection of an e-bike.
The battery of an ebike enhances its performance. 48v ebike battery is the most popular and performs very well, offers a range between 30-40 miles, and 48v battery gets charged for around 4-6 hours.
3. Ergonomics
Ergonomics resembles comfort and efficiency. When selecting an e-bike, you must appropriately examine a bike's frame, geometry, pedal, saddle, and handlebar position. Ensure that the e-bike is entirely adjustable with ease.
FAQs: Step Through vs Step Over Ebike
Q1. Are step-through e-bikes unisex?
Usually, stepping on electric bikes is more common among women. However, more e-bikes are becoming unisex along with step-through designs. A huge number of men prefer this design as it becomes easy to get on and off.
Q2. Is It ok for a man to ride a step-through bike?
It would be perfectly ok for men to ride a step-through ebike, as it is a comfortable partner during the ride. Men with short legs could easily get on and off the bike.
Q3. Are step-through bikes less stable?
Yes! Because step through ebike's construction is less stable and is much weaker than any traditional bike that possesses a stable triangle.
Q4. Are step-through bikes only for ladies?
In earlier days, the bike was for only ladies, but now, the step-through bike is for both men and women. Men could also ride this designed bike and could experience a great ride.
Q5. Are step-through electric bikes perfect on hills?
Due to their upright position and design, step-through bikes are not the perfect option for hilly regions but are best for casual rides, and delivery agents.
Q6. Are step-through ebikes good for hunting?
Step-through frame ebike is a better option for old hunters and for those people who face knee or leg problems.
Conclusion: Step Through vs Step Over Electric Bike
What's better step through vs step over Ebike? the decision becomes really difficult. You might wonder – are step-through bikes good? Or are step-over bikes?
There is no proper answer, as both possess unique disadvantages and advantages. So, To conclude this article on Step over vs Step through frame, I would say:
No doubt! A step-through ebike is heavier than a step-over. But you can ride this type of ebike for going to work, very good for casual rides, girls wearing skirts or long dresses, and good for formal attire as well. If you have joint mobility issues, it's the best option.
Whereas, a step-over ebike is best for mountain biking, sports riders, and young riders, and best for uphill riding. Such types of ebikes are very easy to handle and stable because they are very lightweight.
The final selection is in your hand, it doesn't matter what design you select, you will have a great time with an e-bike ride. So, don't hesitate to choose an e-bike that suits you.
---