When it comes to e-bike batteries several things may occur that can lead to the battery not being charged. It is an electrical component after all. In this blog, we have tried to cover that problem for you.
The question "Why is my ebike battery not charging" is answered with the possible causes and fixes.
There are a few possible reasons that may hamper your battery when charging. Keep reading the blog to find out about the problems as well as the solutions.
But first, let us see how you would know if your e-bike is getting charged.
How Do I Know If my Ebike Battery is Charging?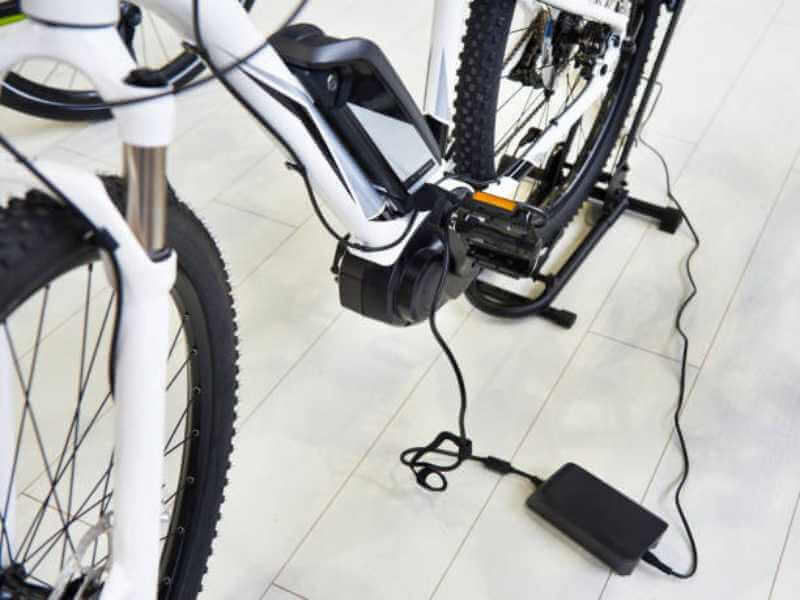 There are several indicators that you can follow to know if your battery is being charged or not. Here are the best ways to do that:
1. Be careful while putting the battery to charge
Connect your e-bike battery to the charger and plug it into the power source. Make sure you follow this process and you have no loose connection. Taking care in this process will eliminate any chances of electric loss and you will be rest assured that your battery is being charged.
2. Observe the LED indicator
The LED of the charger flashes, changes color, or remains as it was to indicate the different levels of charging. Usually red color would mean that the battery has a low charge, when the light blinks it indicates that the battery is getting charged.
Lastly, when the light is green it means it is fully charged. This may vary depending on the design and looks because there are some batteries with digital displays too.
3. Monitor the voltage of the battery
When the battery does not have a built-in battery indicator you can monitor the battery voltage to check whether it is charged or not. How to do so?
Take a voltmeter and measure the battery voltage before putting it to charge and after some time measure the voltage again. If you see a rise that means the battery is getting charged. Usually, it takes a minimum of 3 hours to get charged.
Related: Learn how long should you charge your ebike battery.
Possible Reasons for Your Ebike Battery Not Charging
There is always a reason behind any mishappening. Similarly, your ebike battery is not charging due to a few possible reasons: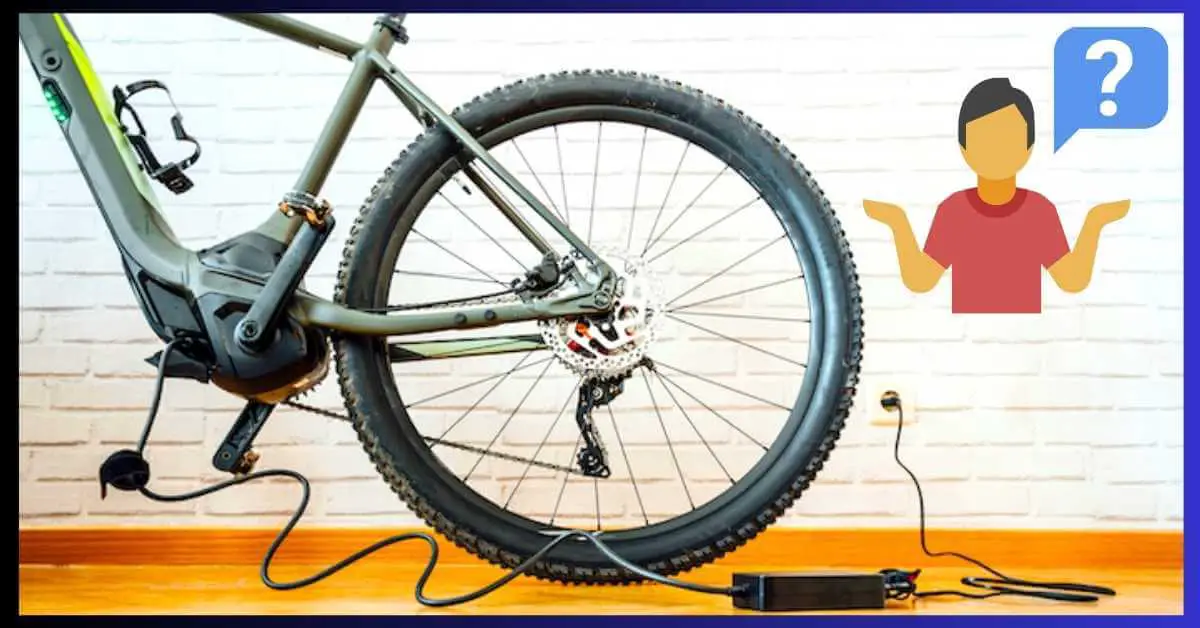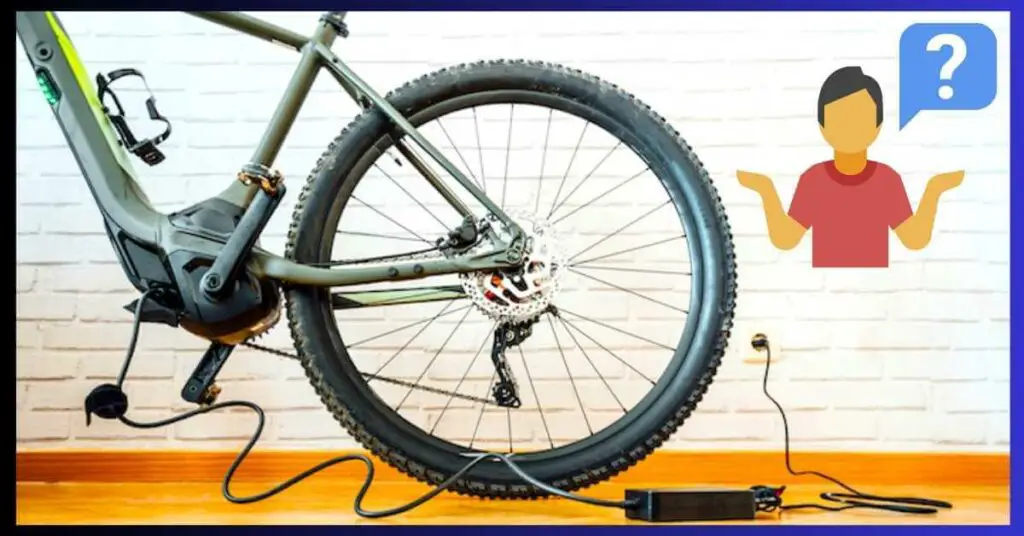 1. Faulty charger
It might be the case that the charger that you are using is a faulty one. Faulty means, your charger is damaged or incompatible with the battery. So, check the charger's compatibility and also see if it is connected properly to the power source and the e-bike battery.
After checking if you do not find any loose connections and see that the battery is still not getting charged, then, you might have a faulty charger.
2. Loose connections
Another reason can be due to loose connections between the charger and the battery. If there is any loose connection between these two it may affect charging as well it can damage the battery and charger due to short-circuit.
Therefore, Ensure that all the connections between the charger, the battery, and the e-bike are secured and no electricity is flowing out. Check for loose or damaged connectors.
3. No power supply
It's very basic. But in most cases, the power supply socket is found to be faulty (damaged). If the socket is not supplying the power to the charger then how would a charger supply the power to the battery? So, always make sure that the wall socket is working properly.
4. Faulty BMS
BMS or Battery management system is responsible for every task of the battery. If the BMS of the battery is not working, it would affect battery charging as it stops receiving power from the charger.
5. Battery is Dead
A dead battery means the voltage of the battery has come to the minimum level. And in this scenario, the battery stops performing. It neither charges nor supplies power to the ebike. Overall, It becomes dead and doesn't perform at all. Know how to charge a dead ebike battery.
6. Due to a blown fuse
Another reason for your electric bike battery not charging can be a blown fuse. It is placed inside the battery which protects the battery from higher voltage. If the high voltage is supplied, the fuse blows and stops receiving power which leads to a charging issue.
To confirm the proper working of your ebike battery fuse, measure the battery voltage using a voltmeter from the discharging port. And if the battery shows nothing, it means the fuse is damaged. It needs to be replaced.
Learn how to replace a blown fuse of an ebike battery.
7. Battery protection feature
Some batteries have inbuilt features that do not allow charging in certain circumstances. One of these circumstances could be when the battery temperature is outside the acceptable range or if there is any fault detected in the battery. Consult the manufacturer in these cases.
8. Battery age and degradation
Over time the capacity of batteries starts degrading and they lose the ability to hold a charge. If your battery has been in a similar case, and you have been using it for a long period, it might be because of this reason that the battery is not getting charged.
How to Fix Electric Bike Battery Not Charging Issue?
If you have been facing the issue of your ebike battery not getting charged, you can follow the ways mentioned here to solve your problem. The ways are: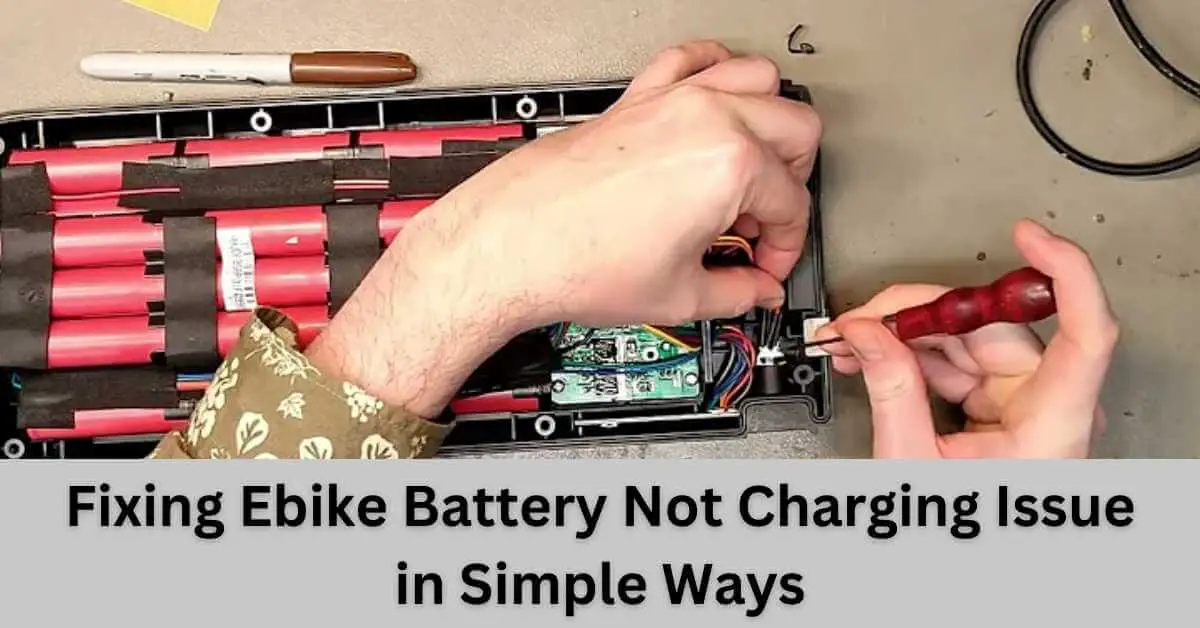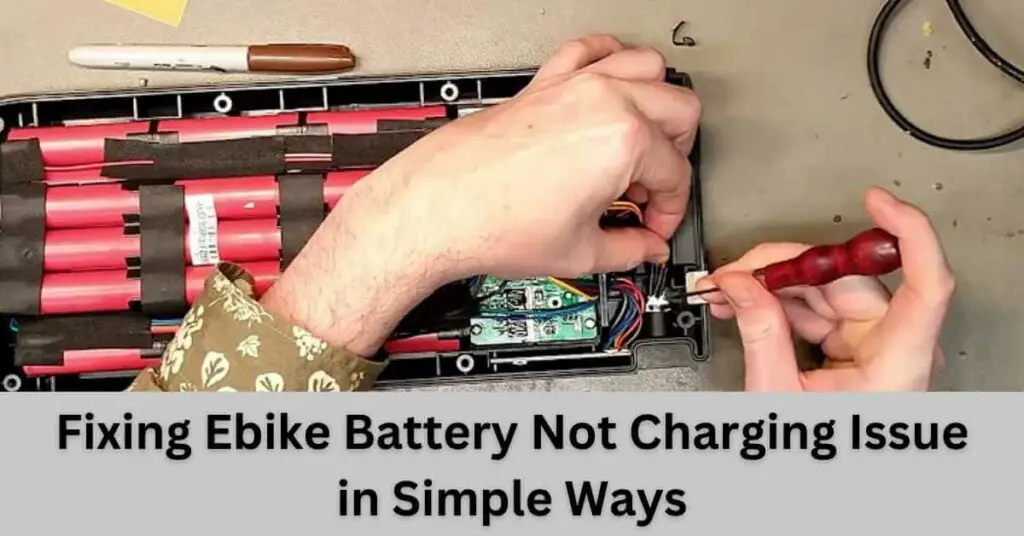 1. Check the charger and the power supply socket
First of all, ensure that your charger is not damaged (working properly) and should be firmly connected to the wall socket. And the wall socket has the proper power supply. These two things must be in working condition to charge the ebike battery.
If you find your charger to be faulty, get it repaired or replace it with a new one. And if the wall socket is not working, connect your charger to another port. Even then, your battery is not charging, let's move on to the next step.
2. Let's examine the battery
When your ebike battery is not charging then you must check your battery's condition from the outside as well as inside (too cold or hot). You might find some visible damage on the battery like corrosion or wire damage.
If you notice such issues, I would suggest you consult the manufacturer or a professional, DON'T try to do something that you don't know properly because it's quite risky. You can also check the battery level indicator if it displays any error message when put to charge.
You would have to replace the old battery with a new one if your existing battery has completed its lifespan. Learn what size battery is best for your ebike and how to purchase an ebike battery.
3. Reset the battery BMS
BMS stands for the battery management system which is responsible for almost every task of the battery whether it is charging, discharging, power supply, and so on. And when the ebike battery is not charging, it can be due to BMS.
Then how would you fix this issue? Don't worry! In most cases, there is a reset button on the battery to reset the BMS. You just need to refer to the manual that has been given to you when purchasing the battery.
Resetting the battery management system helps fix any software or firmware-related issues that may be the reason for not getting the battery charged.
4. Test with a different charger or a battery
If you have a different charger and a different battery, you can try using them to see if there is a fault in the battery or the charger. This will help you identify the issue very quickly and efficiently.
5. Seek professional help
You did your best to charge your ebike battery but nothing worked! Then, You must ask a professional for help. They always have the expertise to know what's wrong and also it might prove fatal to you if you keep trying things for a long time to figure out what is wrong.
Do's and Don'ts for Effective Battery Charging
When it comes to effective battery charging there are certain things that you should do and some things you should not. Let us see what are the dos and don'ts of effective battery charging:
DO'S:
Please read the manual carefully to know how the charging works. Where to plug in, how to do so, etc. The manual always provides instructions like these. So read that it helps a lot.
Use the right charger that was given along with the battery when you made the purchase. Do not make the mistake of using a different charger with your battery. This leads to reduced battery life, improper charging, or even battery damage.
Monitor the charging process to ensure good charging. Check the LED indicators and make sure that the battery is not getting overcharged.
Unplug after a full charge: Never make the mistake of putting a battery into charging even after it is charged fully. This is called overcharging, which leads to severe battery damage and damages the charger. Always charge your battery to 80 percent.
DON'TS:
Avoid fast charging: Unless your battery has a fast charger, avoid fast charging the battery. This will lead to excessive heat in the battery which would lead to destroying the components of the battery.
Do not let the battery get completely discharged: Always try to put your battery on charging when the charge is around 20%. Never leave it to get completely discharged as this may lead to the battery degrading over time.
Do not use damaged chargers: You know this might be harmful and if you see any loose connections in the charger get that repaired or replace it.
Do not overcharge: Never keep the battery to get overcharged when you put it into charge. Keep tracking the progress and remove the connections as soon as you see that it is fully charged.
---
What to Do if Your Battery Is Damaged?
If the battery is damaged you need to be very careful and need to contact a professional ASAP. Here are a few ways you can follow:
Contact the manufacturer or a professional: Your safety always comes first. Never try to do things on your own, because there are a lot of chances of something fatal happening.
Remove the battery from the bike: Ask the professional to remove the battery from the e-bike. They most likely do it on their own, but if they do not, ask them to do it.
Dispose of the battery: If there are severe damages that cannot be fixed, you need to dispose of the battery. There are some rules and regulations that you need to comply with before doing this. So, contact the local waste management systems for this and you will be good to go!
Once the battery is disposed of, you should get a new battery for your ebike according to its voltage and range requirements. Confused? Read what size battery is best for an ebike.
Common Ebike Battery Problems (Fixed)
The common e-bike battery problems that we face are loose connections or insufficient range and so on. But how do we fix these problems? Let's see:
When the range is insufficient and you see a significant decrease, it can indicate that the battery has started depleting over time. In this case, you need to say goodbye to the previous battery and say hello to a new one.
Charging issues: These can be tackled with some carefulness. Ensure there are no loose connections and the power button has been switched on. Everything is mentioned above regarding this issue.
When the battery cannot hold the charge, This is only related to the first point. And the solution here too remains the same to change the battery.
Physical damage: If you come across any visible damage your first instinct should be to contact a professional and not take matters into your own hands unless you know things properly. Never!
Conclusion on Electric Bike Battery Not Charging
These are some common questions people ask regarding their ebike battery not charging. The possible fixes have been mentioned here in the blog but it is always recommended to contact a professional when it comes to these situations.
Wherever an electrical component is involved your safety is the first priority. So make sure you are not hampering it while inspecting.
Apart from these if you have any questions feel free to drop in the comments for us to answer!
---
Frequently Asked Questions (FAQs)
Q1. How do I know when my bike battery needs replacement?
The battery of an ebike has a lifespan of around 3-5 years or 500-1000 charge cycles whichever is earlier. When the battery crosses this limit, its performance reduces.
Such as your battery will take long hours for charging, quickly discharge, provide very less range, etc. If you start experiencing such issues after 3 years, it's time to replace your battery with a new one.
Q2. How do I know if my ebike battery is good?
If your ebike battery is charging on time, lasts for long hours, covers long distances, and everything works fine on your ebike. These are the indications that your ebike battery is in excellent condition.
Q3. What to do when your Bosch ebike battery not charging?
Any problem is caused by some reason. So if your Bosch ebike is not charging, it may be due to a faulty charger, a bad electric outlet, loose connections, a dead battery, etc.
First, you must identify the exact issue for your Bosch ebike not charging. Then, you can fix that issue. For example, if your charger is faulty, charging with another charger (compatible) will solve this issue.
Q4. Why is Your Aventon battery not charging?
If your Aventon ebike battery is not charging, it may be due to a damaged or incompatible charger, loose connections, battery corrosion issues, or a worn-out battery that needs replacement. As you find the reason, try to quickly fix the problem in order to keep your ebike ready for future use.