It is crucial to investigate the potential hazards of a product if you want to build consumer trust and protect the reputation of your brand. In light of that, as e-bike technology continues to evolve, new strategies and protective circuitry will be needed to ensure their safety.
Therefore, All Ebike manufacturers and retailers are required to get their ebikes UL2849 certified (in the USA) in order to eliminate ebike fires. Also, potential buyers and users are urged to check if their ebikes are UL certified.
You might be wondering to know what is UL certification in ebikes and why you need to check it. Don't worry! You have landed on the right page. We are going to discuss it all in this article.
If you are a Rad power ebike user or planning to own one, It's very important for you to know: Are Rad Power Bikes UL Certified? So that you can feel free to ride it safely.
Let's begin with the basics.
What is UL2849 Standard Certification?
UL2849 stands for the standard for electrical systems for eBikes which asses the safety of ebikes and electrically power-assisted cycles.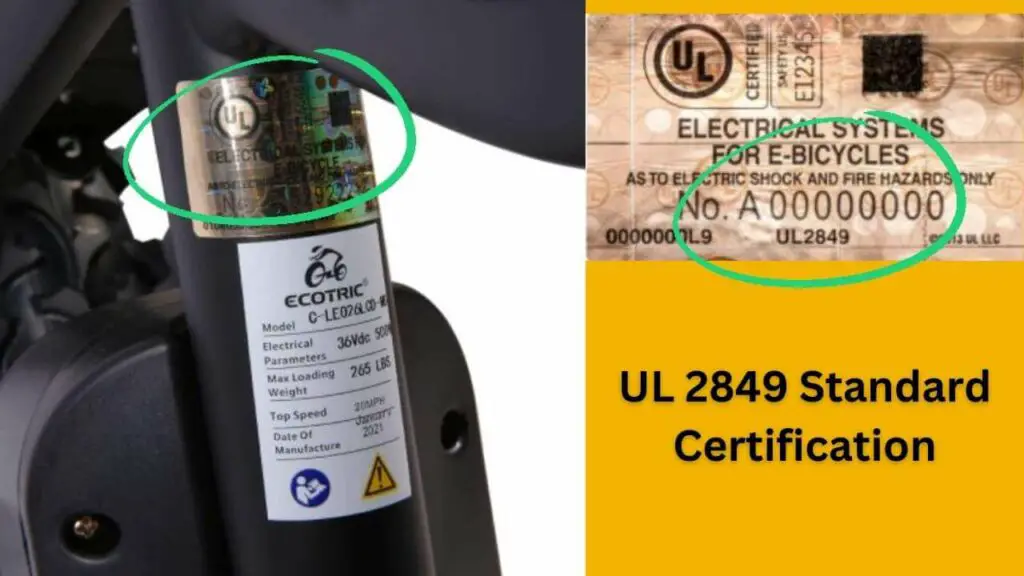 Through this Standard, Electric bikes' electrical drive train, battery, and charger systems are examined to ensure their electrical and fire safety.
UL2849 Certification includes:
All types of eBikes such as pedal assist ebike, e-scooter, hoverboards, and sit-to-operate ebikes.
Electric shock and other electrocution risks are checked carefully which might be possible during charging over the product's lifetime.
Must Read: Palo Alto Bans E-Bikes on Unpaved Paths in Open Space Preserves
Why do ebikes need to be UL certified in USA?
Ebikes technology is still evolving and some of them are catching fire while charging or due to any other reason. Which is becoming a very alarming situation for the country and ebike users.
To ensure the safety of ebike users and residents the Consumer Product Safety Commission (CPSC) has warned manufacturers, retailers, importers, and distributors of ebikes and micromobility devices to comply with established UL safety standards.
You know the main cause of e-bike battery fire is faulty lithium-ion Chinese batteries. These batteries are not checked by any authority and are installed in ebikes, they explode after a few usages.
As an ebike user, you must check whether your ebike is certified with UL2849 to ensure your safety as well as others.
Are Rad Power Bikes UL Certified?
No! Rad Power Bikes are not certified with UL2849. However, the brand claims that their all ebikes are certified with EN15194 which is almost similar to the UL standard.
The main difference is that their ebikes are certified in Europe. But very soon Rad Power is going to get their ebikes certified with UL2849 too.
Here is what EN15194 (2017) certification includes:
Electrically power-assisted bicycles (PAB) are included in this European Standard to prevent all common dangers and events associated with them when used or misused intentionally by anyone.
Therefore this test includes the electric circuit, control & symbols, battery, charger, motor, wiring, temperature control, mechanical strength, power management, battery management system, emission, braking system, brake levers, pedal performance, sensors, heat resistance test, handlebar strength, frame, tires, suspension and rest of the components. Know more.
Are Rad Power Bikes made in China?
Yes! Rad Power bikes are manufactured in China but designed in the USA and world-class premium quality components are used in Rad Power bikes. This is very common in the bicycle Industry because top brands like Giant & Trek bikes are also manufactured in China.
UL 2849 Standards and Implications for Ebike Industry:
---
Conclusion: Are Rad Power Ebikes UL Certified?
I hope now you know that the Rad Power bikes are not UL certified. They are only certified with the EN15194 standard, which is a European standard which very similar to UL2849.
Very soon Rad Power bikes will be authorized with the UL Standard in the USA the brand claims. So don't worry, You can ride Rad power ebikes as you used to (with 100% trust).
Thanks for reading this article till the end. Do share with your friends and family members. If you have any doubts, ask in the comment section below.
FAQs: Are Rad Power Bikes Certified with UL2849?
How do I know if my ebike is UL certified?

You would find a UL logo on the ebike if that is certified with UL2849. It means your ebike is assured of electrical and fire safety standards. You can trust such ebikes with the UL logo as they are fully checked.

Are Bosch e-bike batteries UL certified?

Yes! Bosh ebike batteries are certified with UL2849. As a matter of fact, the entire Bosch e-bike system has UL certification.

What is a UL-Certified lithium-ion battery?

The battery has a UL mark if it is certified with UL 2849. It means the battery has been tested thoroughly and passed the strict requirements of underwriters laboratories and its nationally recognized standard for safety. Battery is not going to explode while charging or riding.
You might also like: