A major confusion that most cyclists experience is while choosing the power range or output of their ebike i.e., 500 watt vs 750 watt electric bike. Whether you are a new cyclist or veteran looking for an upgrade, deciding upon the best possible power output of an e-bike is very important.
One of the most common power ranges in e-bikes is the 500w and 750w, where the riders can't pinpoint the distinctive features driven by the different watts.
In order to decide on a particular power of ebikes, it is essential to first get to highlight your purpose, riding landscape, and such mandatory factors.
In this article, we have covered everything you need to know about a 500w and a 750w e-bike, including their features, advantages, and disadvantages.
We have also sketched down a detailed comparison to help you out as well!
Related: How long to charge a 36v ebike battery?
What is Ebike Wattage? How Much Watt Do You Need?
The wattage of an electric bike represents the power output that the ebike motor supplies. And this can be calculated:
Wattage = Voltage of the battery x Ampere of the battery

For example, a 48-volt battery with a 15-ampere controller gives 720 watts of output (48v x 15A). So our main question is how much wattage do you need on your ebike 500 watts or 750 watts?
Before getting into the evaluation of which watt power is better, it is clever to estimate how much power you actually need. You see for a long time the notion of the greater the speed better it is.
However, this approach might not be fruitful when you are trying to increase the efficiency of your e-bike. What range of watt power you want on your e-bike, actually depends on your purpose of riding an e-bike.
For example, if you are riding e-bikes on a regular basis for a normal commute then we would recommend going for a lower-watt e-bike like a 500W, 350w, or 250Watts.
Since you would require a comparatively less kilowatt motor which is lighter in weight, needs less size battery, and costs less investment too. It is a great help for riding in traffic every day easily.
Whereas a 750-watt electric bike is mostly preferred for riders who attend cycling events, and races and want to go off-roading along with long leisure rides. That's why the 750w motor is equipped with performance-oriented electric mountain bikes and SUV ebikes.
A 750-watt ebike has the ability to hit the maximum speed in no time and it is 25% faster and more powerful which brings the utmost cycling performance to riders.
Having said that there lie significant drawbacks to individual watt ranges from battery heating to speed limiting. But before all that, what really influences your preference for e-bike watt power is your style of riding.
Whether you want a lighter, limited speed, and easy to handle or a powerful and comparatively heavy-duty faster e-bike. Let's examine the features of 500w and 750w electric bikes in detail.
Should You Buy an Electric Bike or a Regular Bike in 2023 | Your Questions Answered
500-Watt Electric Bike Features, Top Speed & More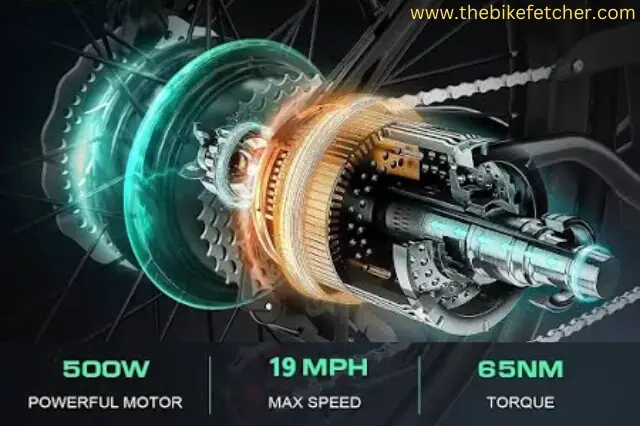 500w electric bikes are considered class 2 ebikes in the USA and they are the most frequently chosen motor among all types since it is perfectly sized and powered.
When it comes to performance and speed, A 500-watt electric bike can easily get you to a decent speed of 15 to 20 mph and sometimes up to 25 mph on plane roads, this speed may vary from rider to rider and kind of terrain.
The battery capacity plays a major role as well behind this. Usually, the battery capacity of a 500W e-bike varies from 12 Ah to 15 Ah depending on multiple factors like the weight of the cyclist and the various terrain situations.
Apart from these main components, parts like the cycle frame, suspension, and brakes play an equally important role in a 500W electric bike. A major benefit of using a 500w ebike is the fact that it is very flexible when it comes to modifying different parts.
Let's see what are the other advantages and disadvantages of a 500w electric bike that you must keep in consideration before buying it.
Pros and Cons of 500w Electric Bikes
Pros:
Needs less effort as a 500w e-bike is supported by a mid-drive motor, which is a great assistance in bumpy rides.
The battery of a 500w e-bike is very affordable and has the capacity to aid heavier weight.
The pedal assists feature of a 500w e-bike can easily help you reach a range of around 25-35 miles in full-throttle mode.
The 500w e-bike is lightweight which makes it easier to ride around the hefty roads and traffic.
A 500w electric bike is cheaper than a 750-watt one.
Cons:
A 500W e-bike has a very limited speed which is a restriction for cycling races.
Usually, the lifespan of the 500w e-bike battery is comparatively lower than others.
A 500W electric bike is quite a common one hence if you want to upgrade ever, then reselling will be an issue.
In a 500w electric bike, there's an issue of motors stalling. This happens when there's too much pressure on the motor, it automatically turns off.
Overall, a 500W electric bike is worth its hype and is by far a reliable one. It is simple, easy to ride, and offers sufficient speed with a lightweight battery. Moreover, there are a few drawbacks of a 500W e-bike like the motor stall, speed limitation, and such.
But if you are a beginner and want an efficient e-bike to go around the city then you must go for a 500W e-bike. Apart from that it is also an appropriate bike for delivery purposes as well.
750-Watt Electric Bike: An Overview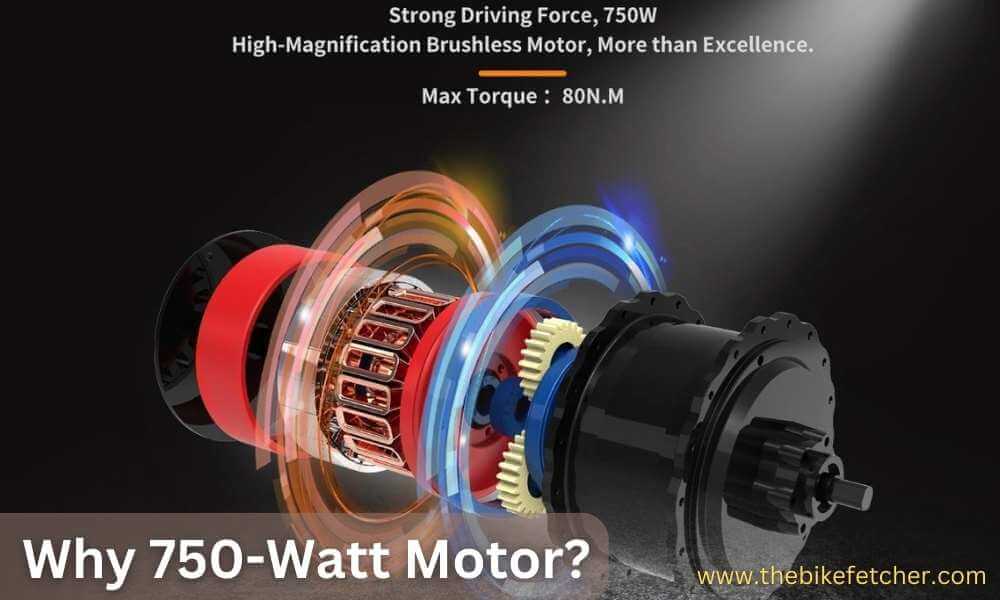 Electric bikes have come a far way from just adding innovation to the cycling field to making it more and more effective. Another such example is the 750w electric bike.
From a leisure ride to adventurous mountain riding 750 watt electric bikes are best suited for all. The high power almost up to 28mph helps you tackle any uneven tracks and climb uphills easily.
Moreover, the batteries of a 750-watt e-bike have a maximum capacity (20Ah) that can easily last you in those long runs (35 km to 60 km).
Even after being a high performance, there are a few things that you must evaluate before investing in a 750w ebike. Hence, let's see what are the pros and cons of a 750w ebike.
Pros and Cons of a 750w Electric Bike
Pros:
A 750W e-bike has a powerful motor that helps you achieve stability and seamless traction even on irregular trails.
The batteries of a 750W e-bike can support up to a 48V or 52v range.
The 750w electric bike can easily reach higher speeds when the high wattage supports a 25-amp controller combined with a 48V battery.
Mostly, 750w e-bikes come with a wider tire, which has a lower air pressure and natural suspension.
Cons:
You might face difficulty in managing the high-speed and powerful motor on the initial level and on irregular terrain.
A 750W e-bike's battery is very expensive compared to the rest.
You would require to maintain 750-watt electric bikes more often because of their complex components.
Due to high wattage, the batteries get heated up and drain way faster than usual, so you will be required to charge more often than usual.
It is obvious that such a high-watt electric vehicle is difficult to maintain and ride, but once you get the hang of it, a 750W e-bike is one of the best choices for any kind of riding and especially for off-roading.
Related:
500 Watt vs 750 Watt Electric Bike Comparison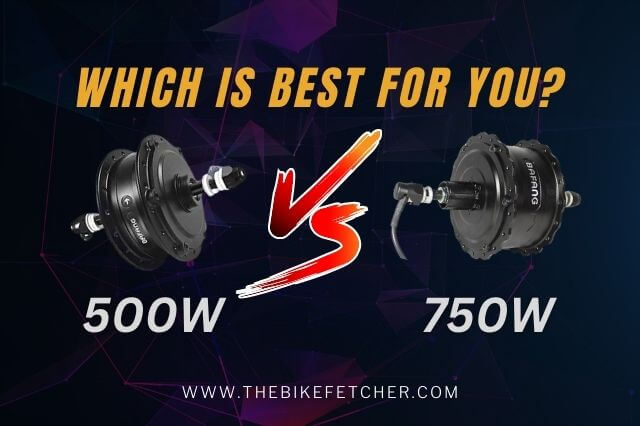 Now that we have an overview of each 500w and 750w e-bike, it is also important to sketch down a clear picture by comparing them side by side.
This will help you not only to decide better but you will also to get an idea of each component.
| Components | 500-Watt Ebike | 750-Watt Ebike |
| --- | --- | --- |
| Motors | The motors of the 500-watt e-bike provide less resistance and cannot help in steep inclines. | Whereas the motor of the 750W e-bike has comparatively stronger assistance that can easily tackle mountain trails. |
| Battery | The battery of a 500-watt e-bike is lighter in weight and gives more range. | However, the battery of a 750-watt e-bike has more voltage and amp-power which also makes it heavier. |
| Controller | The power output of a 500-watt e-bike comes with just a 15-amp controller. | On the other hand, a 750W e-bike controller is 25-amp which allows a maximum power output. |
| Suspension | The suspension of the 500W e-bike is less shock-absorbent and smooth. | Mostly a 750W e-bike is equipped with a high-quality, smooth suspension. |
| Top-Speed | Up to 20 mph (32 km/h). | Up to 28 mph (45 km/h) |
500w vs 750w Ebike Motor: Which One Should You Select?
There is no doubt that a 750-watt e-bike is more powerful than a 500-watt one but that is not all we should be concerned about, factors like battery range also matter when choosing the correct bike for yourself.
Apart from this major factors like terrain and distance also should be taken into consideration. For say, if you want to ride in hilly regions then a 750W e-bike is perfect for you, whereas for plains and roads, 500w is sufficient.
Now, if you are a cyclist who goes on long rides then a 500W e-bike will provide more range and consume less battery power.
Moreover, a 750-watt electric bike will naturally cost you more than a lower-wattage one.
Conclusion on 500w or 750w Ebike
Whether it is a 500w or 750w ebike, what really matters is identifying the true rider in you. After that, you would be able to modify and decide what kind of e-bike you need and with what features.
However, we tried our best to put forward the in and out of both differently powered e-bikes in a very summarised matter.
We hope that this article helped you in deciding the correct wattage e-bike according to your needs. Keep Riding!
Below are some most frequently asked questions regarding 500w vs 750w ebike motors, you may find them helpful.
Related topics:
---
Frequently Asked Questions on 750w vs 500w Ebike
Can a 500w e-bike climb a steep hill?

Yes, It can climb a steep hill as a 500w ebike motor is powerful enough to provide a good speed and torque. However, performance may vary from rider to rider and motor type (hub motor and mid-drive motor).

Is 750w good for an ebike?

750 watts ebike motors offer more speed (up to 32 mph) and torque, therefore, it is considered one of the most powerful motors on ebikes. Also, they can easily climb hills and are very good for cargo ebikes.

Is a 750w ebike better than a 500w ebike?

750w ebikes perform better when it comes to climbing hills as it provides more speed and torque as compared to 500-watt ebike. But there is one disadvantage is that a 750-watt electric bike consumes more battery power.